TAE KWON DO – WTF
SPARRING
FORMS (PATTERNS) - POOMSAE
ACROBATIC - DEMONSTRATION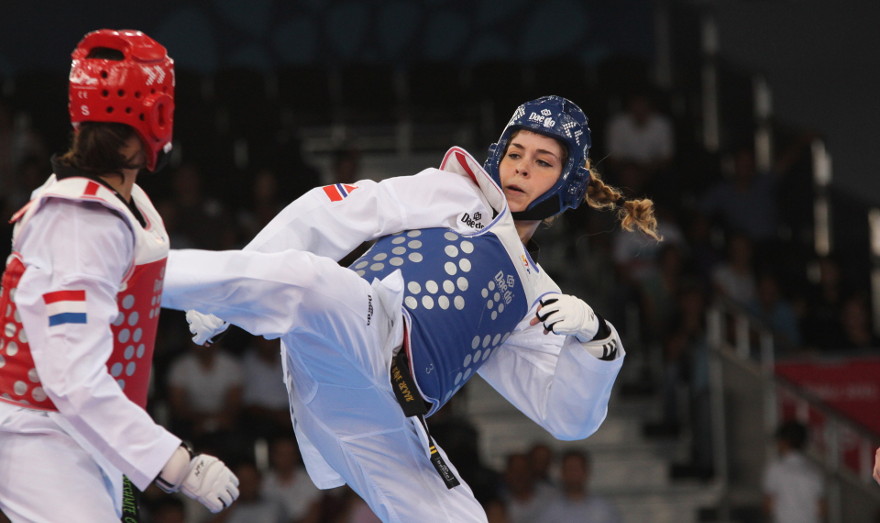 Taekwondo developed in Korea 2000 years ago as a martial art and occupation of the nobility, was recognized as a sport only in the '50s and began to evolve in its current form. The Taekwondo is now taught in more than 160 countries and has two forms of sport and tradition which is one of the most effective forms of self-defense without weapons in the world and an Olympic Sport eminently technical and stroke movements with diversity.
In Taekwondo athlete uses bare hands and legs to perform techniques. Taekwondo means "the art of blows and kicks." It consists of fast, powerful movements from the corner and free circular, combining beauty and power. The feature of Taekwondo is spectacular, high degree of difficulty, technical full explosive power and speed. Dealing with Taekwondo cultivates confidence, discipline good physical and mental condition always cultivating the spirit of noble rivalry and safe childhood.
Age 4 – 6 years old: Achieve the smooth and gradual integration into a new social – sports field where he is given the opportunity to play, to work out safely at a very basic exercises for the whole body.
Children this age know and fit into a new sports lifestyle under the guidance of experienced and qualified coaches of the sport. The teaching is simple and in a way that is understood by the young athletes together with games and exercises to practice the spirit and body, but with a strong goal of socialization and team spirit.
Age 6 years old and above: Achieves good physique flexibility where flexibility combined with speed, strength, explosiveness create a striking effect, as combined with various motor activities.
Later on the child has the opportunity to join the championship participate with the team of our association in club National championships, demonstrations and events in Greece or abroad.
ADULTS: Adults who feel physical and mental burden and the idea of their fitness scares or believe that the chances for something different exhausted can actively deal with the Taekwondo or Hapkido Self Defense. Learning to become simple and easy ways adapted to the specificities of each person and needs no motor skills or an outstanding physical condition.

SUCCEEDS TO: Relief relaxation gradually restore physical and flexibility, improve muscle system, resistance and combat stress and orthosomias problems ..
From this year our Club operates a second modern hall where parents who want to work can work out at the same time with their children since their time is often limited.
The Club was founded in 1989 and since then takes place with athletes at all official championships and has made a large number of athletes with many high distinctions in Greece and abroad.
In this context, therefore, we would like you contact us to meet you and to meet you, to inform you about our programs and to resolve any questions about.